From: Bob Serling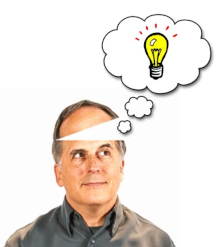 What's the difference between an ordinary, run of the mill idea and a breakthrough idea?
For my friend and well-known marketing expert, Frank Kern, it was $49,900 he never would have seen without the idea I gave him. Here's how Frank describes it:
"The serial email campaign you created was crazy. Usually the first email gets the most sales, then you get less sales with each email in the sequence until they stop. But like you promised, I actually got 150% more sales on my last email. Plus it was really easy. I just plugged in the copy you gave me, mailed my list, and within two weeks, I had $49,900 in profits I wouldn't have seen without this. And it's even better when you consider that this product had already been sold to my list 3 or 4 times before."
Frank Kern
So how did I create the idea that drives this new form of email campaign – and many other highly profitable ideas as well?
I used a simple, proprietary process called "The Million Dollar Minute – A Step-by-Step Process for Creating Breakthrough Products, Services and Marketing Strategies".
It's easy to use, really – once you understand how. And I lay out the entire process, step-by-step in my short course that you can master in an hour or so.
A real life example of The Million Dollar Minute in action
If you're familiar with me, then you know I created a hot-selling skateboard toy featuring the logos of Tony Hawk and half a dozen other top skateboarding brands. It was sold in Toys-R-Us, Wal-Mart, Kaybee Toys, Target and thousands of websites and smaller stores all over the world.
And the story of how this unfolded illustrates how effective The Million Dollar Minute process really is, even if you have no experience whatsoever.
The company I licensed my toy to was not the first company in this market. Another company actually came up with the original idea for these small plastic skateboards that kids move around with their fingers. And that original company that created the "finger boards" concept was doing just fine at first, enjoying sales in the multi-millions.
Then the company I licensed my toy to came along and took over the entire market. You see, the original toy skateboards had generic designs on them – skulls, demons, bright colors and that kind of stuff.
But a couple of guys in the toy industry saw how popular these skateboards were and came up with a better idea – an "enriched idea". Instead of using the same old generic designs, they licensed the images and logos of Tony Hawk and a bunch of other top skateboard brands and used them to decorate their version of these toy skateboards.
So now when a kid walked in a toy store, he saw one brand of toy skateboard with a skull or thunderbolt and a second version with Tony Hawk's logo. And that spelled doom for the original company, because 9 out of 10 kids would rather have the images and logos of their favorite skateboarders than just another skull image.
Within months, the second company drove the original company completely out of business. But here's the most important part…
The second company did not invent the toy, they merely used an "enriched idea" to improve it. And that simple improvement alone, just the addition of famous skateboarders brands, allowed them to completely dominate the market and drive the originator completely out of business.
Now, fast forward a couple years and that's where I come in. You see, I didn't invent the toy skateboard or come up with the idea to use Tony Hawk and the other skateboarders graphics on them. That had already been done.
What I actually did was create a simple "add-on" that attached to these skateboard toys with the logos of Tony Hawk and other that made them more fun for kids to play with.
With my little attachment, when the kids dragged the tail of the board to stop it, the attachment would shoot out a trail of bursting sparks. And because few young boys can resist anything that simulates fire or loud explosions, my version was an instant hit!
So what's the lesson here? Very simply it's this: there are millions of dollars to be made not by creating a new idea, but by "enriching" existing ideas.
Now – here's the most important part
Having my toy in thousands of stores all over the world and collecting a royalty for every piece sold was really cool. But there's one more element to this that's even more important.
You see, before I used The Million Dollar Minute process to come up with this I idea, I didn't have a lick of experience in the toy industry. And that's the true power of this simple process – it doesn't take any previous experience to use it to create blockbuster product, service, and marketing ideas for any market.
In fact, in addition to the ideas that produced $49,900 extra profit for Frank and my toy, here's just a sample of some of the other "enriched ideas" I've created using The Million Dollar Minute – and in many cases, I didn't have any previous experience in these industries:
When I applied the system to a marketing piece I was evaluating for Darren Hardy, publisher of Success magazine, I gave him enriched ideas for modifying his positioning and his pricing. After applying these recommendations, Darren saw an immediate increase of $78,000 in profits. And because he offers this same program multiple times a year, he'll collect these additional profits every time.
A few years back, I was approached to solve a technical problem in a scoring process for testing and assessment software, despite the fact that I'm essentially a technical dunce. However, The Million Dollar Minute helped me create a solution that had eluded the software engineers for years and together with two partners, we built an innovative company around that software, which we later sold for multi-millions. The company is still in business today, serving prestigious companies like Pioneer Electronics, Johnson & Johnson, Cars.com, General Electric, and CVS Pharmacies.
A couple years before Corey Rudl passed away, I sold a division of one of my companies to him and his partner, Derek Gehl. This was a straight sale, but the one "extra" that Corey insisted on was that I create a couple "enriched ideas" that would help them increase their profits quickly. After a short review of their business using The Million Dollar Minute, I recommended a simple addition to their marketing structure they were overlooking.

They applied the idea and the results were exceptional. Derek has told me that within the first week by implementing what I recommended, they took in an additional $1 million. And altogether, they ended up producing $2.6 million in additional revenue they never would have seen without this "enriched idea".
Pamela Yellen single handedly created an entirely new industry based on a highly specialized form of investment. But when you invent a brand new industry that people have never seen before, it can be difficult to convey exactly what it is so people grasp the concept quickly. And more importantly, so they feel an immediate, compelling need to buy your product.

That's where product naming plays a critical role. When I was brought in to help with the marketing strategy for the product, I immediately noticed that its name didn't really do it justice. And I knew we had to develop a name that clearly demonstrated the value of her product as soon as you saw it.

So using The Million Dollar Minute process to brainstorm with Pamela's team, I came up with the name for an investment vehicle that lets you pay all the interest on loans and credit cards to yourself rather than to banks and credit card companies.

The newly coined name was "Bank On Yourself" and the program has been a huge hit (and very profitable) right from the start. This is yet another example of an industry where I didn't have a shred of experience, but what I did have was The Million Dollar Minute.
How to become a master innovator in two hours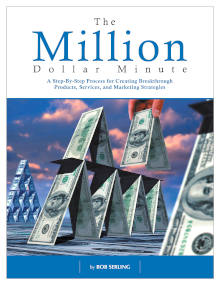 At just about an hour to go through, my course The Million Dollar Minute is a quick read. But I strongly suggest you review it twice to make sure you master the entire process. Altogether, that should take you about two hours.
Once you have this simple but powerful process down, which is easy for anyone to master, you'll be able to create your own "enriched ideas" for any type of product, service, or marketing piece. And you'll have a great time doing it, too!
Now, I'm not going to make you any wild-eyed promises of how many millions you'll see from this. The truth is, there's no way for me to know.
But what I can tell you is that I've used this process for nearly 30 years now to create breakthrough product, service and marketing ideas that have produced millions upon millions of dollars in sales. And since I only graduated from high school and don't have any college education, it does not take a rocket scientist to benefit from this simple process.
Special discounted offer
The Million Dollar Minute originally sold for $147. But for a limited time, you can get your copy for just $67. I stink at math, by my calculator tells me that's a healthy 54% discount.
Now, while I don't want to make any over inflated claims about this, as you can see from the results I've produced with it and the types of clients it's allowed me to work with, The Million Dollar Minute truly changed my life. It's done the same for many of my clients.
And I believe it will do the same for you too.
So jump on this now. For just $67, I can promise you'll consider The Million Dollar Minute one of the best investments you've ever made. Just click here to place your order:
Yes, I'd like to enroll now at this substantially reduced fee
Regards,